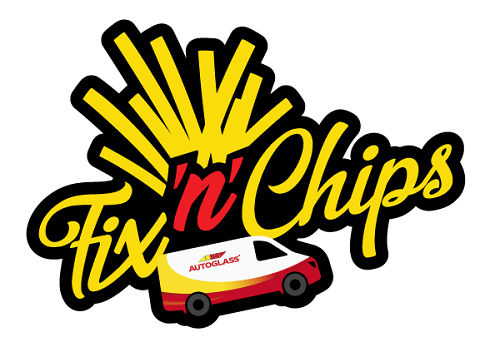 Whether at the seaside or sat on the sofa, we all love fish and chips.
The type of chips we don't like are windscreen chips.
At Autoglass®, we believe that fixing windscreen chips shouldn't cost more than fish and chips*. In honour of this, we're thrilled to be running a series of weekly competitions throughout summer hosted by our amazing team of technicians…you might even recognise a few familiar faces.
*Customers with glass cover insurance will normally pay under £10 excess
How do you like your fish and chips?
James
I like my fish and chips covered in curry sauce.
Roger
They've got to be covered in salt and vinegar with a chip cob!
Where And When?
Starting on Friday 16th July, every Friday, we'll be tweeting at midday, mini tasks for you to participate in. The winners will enjoy FREE fish and chips (yum!) on us through your choice of delivery service. Whether that's Just Eat, Deliveroo or Uber Eats, you can take part wherever you are in the UK.
Not only have we got your Friday dinner covered, but every weekly winner will then be entered into the grand prize draw at the end of summer to win a trip to London and dinner for two at celebrity chef Tom Kerridge's new Fish & Chips restaurant in Harrods, London.
So keep your eyes on our Twitter (tip: have your notification on) and you could win fish and chips for the whole family.
Let the games begin!
T&Cs apply.
Full Terms & Conditions
Before you enter the Autoglass® Fix 'n' Chips competition, please read our terms & conditions.
TERMS & CONDITIONS OF COMPETITION
These Terms and Conditions apply to all participants of the Autoglass® Fix 'n' Chips competition. Participants who take part agree to and are bound by all the terms and conditions as stated below:
Who can enter? Open to all adults in the United Kingdom at the time of competition except employees of Autoglass®, its subsidiaries and affiliates, agencies or any company associated with the competition activity and/or the immediate family members of such persons. You will need to be 18 years old or older to enter and must have an email address for us to contact you should you win.
What is the competition period? The competition will be held on a weekly basis from Friday 16th July, for 8 weeks. Each week, the competition will be announced at around 12:00hr GMT every Friday via Twitter. The winner will be shared at around 11:50 GMT the following Friday on Twitter, by Autoglass® responding to the winning tweet. Any submissions received after 12 noon on the following Thursday of each week will not be accepted.
How do I enter? All you need to do is reply to the weekly competition Tweet from the Autoglass® account, which will be made every Friday at around 12:00hr GMT. You must reply to the Tweet and use the hashtag #fixnchips to enter. There is no entry fee and no purchase necessary to enter this competition. Anyone found to be using multiple accounts to enter will be ineligible.
How do I win? The individual with the best tweet wins (best, in this context, could mean most liked, funniest, most engaging, as judged by Autoglass®). The Twitter post for each weekly competition will state how the winner will be identified. The winner must have an active Twitter account and be following Autoglass® Twitter account. Autoglass® does not tolerate any hate speech and violations of Twitter guidelines. Please read for more info here. Autoglass® reserves the right to disqualify any individuals at our own discretion and without correspondence. Autoglass® will judge all entries and final decisions will be made at our discretion.
How many winners will be selected? One winner will be selected and announced each week on Friday at around 11:50hr GMT. At the end of the eight weeks, there will be a total of eight winners. One of these winners will be chosen at random for the grand prize.
How will winners be announced and contacted? The winner will be announced every Friday at 11:50hr GMT on the Autoglass® Twitter page. Winners will be contacted within their own personal entries; Autoglass® will respond to the winning tweet directly. Autoglass® will request for the winner to send us a Direct Message on Twitter for private details to be shared. Winner's email address will be obtained to share the food voucher via email. Autoglass® will not be storing data of winners after this campaign.
What are the prizes? Each week's winner will receive a voucher from a takeaway service of their choice to the value of £30. The takeaway services they can choose from include: Deliveroo, Just Eat and Uber Eats. The winner can use this voucher to purchase food and drink of their choice.
The grand prize is a dinner for two at Tom Kerridge's Fish and Chips restaurant at Harrods, return train tickets (economy class) for two to London and one night stay in a hotel in London. Autoglass® will book the hotel and train directly and will repay the cost of dinner on receival of the receipt from the winner. The value of the grand prize will not exceed £500. A cash alternative will be offered should circumstances change or if it is not possible to make a reservation at the restaurant due to Government restrictions.
The prize is as stated. The prizes are not transferable. Prizes are subject to availability, and we reserve the right to substitute any prize with another of equivalent value without giving notice.
How will I collect my prize? Once winner's email address has been shared with Autoglass®, Autoglass® will send the voucher to the winner via email. The winner will have 3 days from announcement day to respond with personal details. If we do not hear back from you within that period, Autoglass® reserves the right to withdraw the prize from the winner and pick a replacement winner.
Autoglass® shall have the right, at its sole discretion and at any time, to change or modify these terms and conditions, such change shall be effective immediately upon posting to this webpage.
Autoglass® also reserves the right to cancel the competition if circumstances arise outside of its control.
PLEASE CAREFULLY READ THE PROVISIONS BELOW BEFORE PROVIDING YOUR PERSONAL DATA TO PARTICIPATE IN THE COMPETITION. BY PROVIDING YOUR PERSONAL DATA PURSUANT TO THE STATUTORY REQUIREMENTS OF THE DATA PROTECTION ACT 2018 AND UK-GDPR YOU ACKNOWLEDGE THAT YOU HAVE READ AND FULLY UNDERSTAND THE CONTENTS OF THE PROVISIONS AND YOU HEREBY GIVE YOUR CONSENT AS SET OUT BELOW. By submitting your personal data via "Twitter" (which includes names, photographs, recorded audio/video, written communications and/or any other data attribute establishing the personal identity) you consent to Autoglass® collecting, using, disclosing and/or processing your personal data for the purpose of "Autoglass® Fix 'n' Chips competition". During your course of dealing with Autoglass®, Autoglass® will process your personal data for the above mentioned purpose, including, to communicate with you, provide products and/or services to you, respond to your enquiries or complaints, provide you with information and/or updates on products, services and/or promotions offered by Autoglass®, identify you (including publishing your name and photograph) when you participate in the competition organised by Autoglass® and other purposes required to operate and maintain our business as set out in our Privacy Policy (collectively referred to as "Purposes").
For a quick and easy way to make an appointment book online now.
---
Sign in to manage your appointment and pay any outstanding balance.
---
---
Autoglass® is rated

4.4 / 5
Based on over 70,000
reviews
---