Rain Repel - the advanced windscreen kit from Autoglass®
As the UK's favourite vehicle glass repair and replacement specialist, we make a difference by solving people's problems with real care.
In our bid to help motorists care for their vehicles and stay safe on the roads, we have launched our first ever car care product, Rain Repel - the advanced windscreen kit.
What is Rain Repel?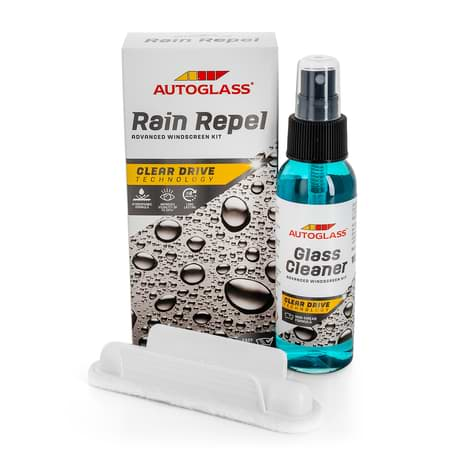 Rain Repel is a hydrophobic coating for your windscreen, which is highly effective in cold and wet weather. It works by forming a chemical bond with the glass. This causes rain to bead and run rapidly off the windscreen when travelling over 60mph, and prevents frost and ice from bonding with the glass.
How could it help me?
Your visibility will be increased by up to 34%* when driving in the rain
Easier removal of frost and ice
Reduces glare in the rain, especially at night
Long-lasting. One single application lasts up to 4 months.
*Based on moderate to heavy rainfall, under simulated conditions (The University of Michigan, Transportation Research Institute).
Watch a short video about how Rain Repel works
What is included in the kit?
The Rain Repel kit consists of 100ml Glass Cleaner, 8ml Rain Repellent applicator and an application guide.
One application takes approximately 12 minutes and is effective for up to four months. The treatment does not need expert assistance and has an easy to follow guide explaining how you can apply the treatment at your own convenience. It is suitable for windscreens, side windows and rear windows.
For a quick and easy way to make an appointment book online now.
---
Sign in to manage your appointment and pay any outstanding balance.
---
---
Autoglass® is rated

4.4 / 5
Based on over 70,000
reviews
---